ESPRESSO ANALYTICS
Coffee cafes should try a hub and spoke menu board with espresso in the middle and a spoke for each of the six other offerings it supports and then from each offering, additional spokes for the final coffee derivatives.  Espresso then Latte then Grande Mocha Non-Fat Latte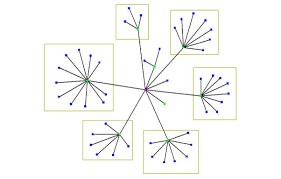 Dashboards and scorecards should be similar. Core metrics at the center and related secondary and tertiary metrics on the spokes.  Safety Score Then Type Of Accidents Then DOT Reportable Accidents with Damage Exceeding $1,000 Caused By Company Driver
The traditional menu or scorecard is a list.  Each item is viewed as independent.
A hub and spoke visual of a menu or analytics shows relationship.  It enables the rapid perception of connectivity and a shorter path to insight and decision making. If you have ever stood behind a café customer perplexed at a coffee menu contemplating the configuration of their order, you can understand the value of being able to see the relationship of the elements to make better and faster decisions.
Faster and better decisions is also the goal of emerging Business Intelligence (BI) models and systems.
Being able to easily interpret large volumes of data, Identify possible scenarios to make and implement effective decisions based on acquired insights is what visually effective business analytics communication can achieve.  Being able to migrate from unstructured scorecards and dashboards to more innovative visual representations can help a person identify, develop and create new strategic business insights.
Try taking a menu or business dashboard and build a hub and spoke representation by:
Start with a hub title called "Performance"
Create the first ring with the core metrics and connect the metrics that are strongly related to or impact each other
Identify related secondary metrics for each core metric and if needed the tertiary metrics to the secondary elements
Create the visual and plug in the data
Begin to play what-if scenarios such as, "If I want to increase the performance of the core metric by x%, what secondary metrics need to improve and by what %" or "If the performance of a secondary metric increases by x5 what is the impact on the core metric?".
Focused and organized business analytics can provide businesses and coffee bars with a competitive advantage, faster decision-making and improved performance.
Barista, another double espresso please.
YOU MIGHT ALSO LIKE THESE